Readings for the 4th Sunday in Lent, March 18th, 2007.
Joshua 5:9-12, Psalm 32
2 Corinthians 5:16-21
,
Luke 15:1-3, 11b-32
God's unremitting action towards us is to bring about reconciliation.
To draw us closer to himself
To unite us to each other.
In a world that is at times harsh and difficult
we turn to God
because God is already there showing us the way back to wholeness.
The Hebrew Scripture readings through Lent remind us that people are slow to understand this about God.
They are constantly wandering off and separating themselves from God.
This indeed is a major theme, almost from the beginning of Creation.
And God moves to bring us back.
So we read one of these accounts in the passages for this week. (Joshua 5:9-12)
The theme is familiar, and recurrent.
We are called back by God, into fellowship with God.
It is not the first time, and it will not be the last.
And we are invited into the story of Jesus, par excellence, often called
The Prodigal Son.

I always note when talking about this masterly story
that it is a story about God
rather than about the two sons.
It would be better called something like The Reconciling Father.
This Father, who is of course God, is always ready to meet us at our lowest ebb.
This is an important point to grasp.


False expectations


We often think that in order to encounter God
that we have, as it were, to be on our best behaviour
but the Bible tells us
both in the Old and New Teastaments
that it is when we are desolate
when we are empty
when we cannot of ourselves
come to God
that God comes to us.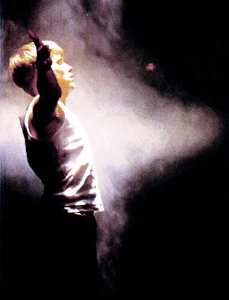 It is when we are hanging on the cross
that we are most open to knowing God.
This isn't easy to grasp
though maybe we understand the truth of it
better than we think.
As I reflect on my encounters with God
it is precisely at these points
when I am most sure of who God is for me
and what God does.

Experience
The good thing about the parable of the Forgiving Father
or as we call it the Prodigal Son
is that we don't have much difficulty placing ourself somewhere in the scheme of things.
Whether it be as that young man who desperately runs at life
and is ravaged by it
and ends up desolate and in despair
not knowing what to do.
Or whether it be as that self-righteous one
who sees the waistrel come back after having had a whacko of a good time
and being treated as though nothing had happened.
(This is of course not a true appreciation of the situation)
Well, we often think of ourselves like that.
So we can place ourselves in the story.
And of course as we see the forgiving Father
standing on the hillside
longing for his child to return
many of us know the pain of that too.

Reconciliation played out
As the story of reconciliation is played out
we see it abound in multi-various forms.
And we note how it happens.

1.

Reconciliation happens sometimes when, often in our desperation,




we choose to act differently


The Son decided to put his pride to one side
and to come on home.
The opportunity thus created
the Father readily welcomes him back.
But the Father could not do so unless the son provided him
with the opportunity
Is there something in our life that needs us to pay attention
and create opportunity for reconciliation to happen?
It may be as simple as going to see someone,
or ringing, or saying sorry.

2.Reconciliation happens when we make ourselves open for it to happen
That Father stands on that hillside day after day and longs for the son to come home.
This is an image of God, of course, but it is also something of a pattern for us to follow.
Are we ready to let reconciliation happen
when it will happen?
So often we want people to stew in their own misery (and perhaps we want this for ourselves)
we feel hurt and rejected
and often even the prospect of reconciling
seems difficult.
Will we be opening ourselves to more hurt
will we be rejected once again
will the reconciliation be short-lived
will we be exploited?

And yet the Father stands waiting day after day.
In those places in our life where we know there is a need for healing, restoration
for reconciliation
Are we prepared to let it happen?
Can we put aside our own hurt
and allow the greater drama to transpire?

3. Reconciliation is always wider than we imagine
and entices us to greater reconciliation than we immediately conceptualise.
This story is not just about the father and the Prodigal
it is also about the Father and the Older Son
and the Older brother and the younger brother.
Again we resonate in this story
because this is often close to our experience.
Our sibling relationship are filled with fear and jealousy
doubt and insecurity.
I am ever mindful of the fact that my own parents tried as hard as they could
to love each one of their children
and not to allow us to say in that childish way
"Love me more!"
The older son is in ned of reconciliation
He cannot bear this brother
Hear the bitterness of the words:
"This son of yours..." he says to his father
and the father has to remind him
"This your

brother

was lost but now is found, was dead but is now alive"
The father, too, I suspect
and the older brother need to be reconciled
Does the father hear the older son's great hurt
at having to stay at home
it is easy to blame him as a caricature
but we can just allow that there is always more going on
and that reconciliation is very much a two way street.

This week
Where is God pointing you to be reconciled?
Where are the places in your life where we have to say:
This has gone on long enough! Things need to change.

Pray carefully for:
The courage to act differently, to move away from bitterness towards reconciliation.
Seek to deliberately construct opportunities for openness and healing.
Always be on the lookout for more from God than we asked for or imagined


JESUS, you are more for us than we imagine or deserve

Grant me the courage to live differently
give me opportunity and desire to be made whole
let me live expansively in your Spirit
rather than narrowly in my smallness
for you are my Hope
you are my Joy
you are my Life